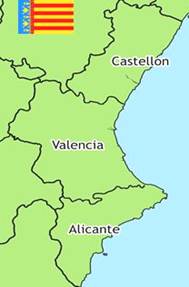 Last updated: 7th April 2022
English speaking meetings in Costa Blanca
( Alicante , Valencia provinces and Murcia)
General Contact info:
Costa Blanca North (+34) 648 169 045
Costa Blanca South (+34) 625 912 078
The AA Costa Blanca Website, which takes in the whole of the Valencia and Mucia regions, offers a comprehensive meeting list, news about conventions and related AA information
Many meeting venues remain closed, despite the general lifting of the National Emergency. But one or two are now reopening. For full listings , both online and f2f, see the links below.
Full meeting list at  https://aa-costablanca.org/
www.aa-costablanca.org or write to aa.costablanca@gmail.com
Valencia Province


Our group contact is available on
+34 711 084 757. or email aavalenciaenglishgroup@gmail.com

All face to face meetings are conducted at:
Carrer del Pouet de Sant Vicent, 1, 46003 València
Google map link: https://goo.gl/maps/xmx4f6GBrQSRA8XX6

Instructions - Entrance is through the alley.

Tuesday 11:45 am
Open - Face to face
Carrer del Pouet de Sant Vicent, 1, 46003 València


Wednesday 18:00 pm
Open -- Face to face (1 hour)
Carrer del Pouet de Sant Vicent 1
46003 València

Friday 6:45 pm
Open - Face to face
Carrer del Pouet de Sant Vicent, 1, 46003 València

Fridays 7:00 pm
Open - Zoom - See instructions below

Sunday 7:00 pm
Open - Zoom - See instructions below

For daily Zoom meetings : https://us02web.zoom.us/j/9888214709

We also maintain a WhatsApp group that posts the Zoom meeting link and changes relevant to the face to face meetings


Courtesy Listing:

AA meeting in German, based in Ondara. Thursday 18:30.
Restaurant Terrat, Calle Xavea 10, Ondara.
Contacts: (+34) 630 942 983 or (+34) 634 350 906